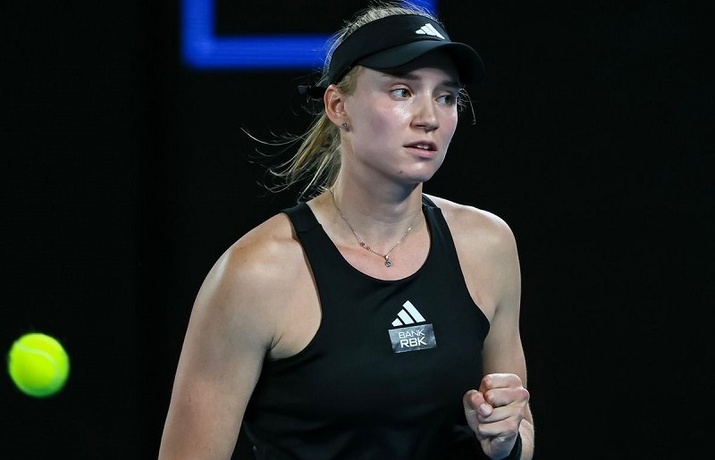 Rybakina rolls Azarenka 7-6, 6-3 to reach maiden Australian Open final
Victoria Azarenka from Belarus was barred from competing at Wimbledon last year due to Russia's invasion of Ukraine and Belarus's collusion with Vladimir Putin. Elena Rybakina who was born in Moscow, Russia, has represented Kazakhstan since 2018.
The WTA and ATP Tours retaliated by stripping the Championships of ranking points. Consequently, Rybakina received only a trophy and sizeable check for her Wimbledon victory. The 2000 ranking points she was denied would have propelled her towards or inside the top ten.
The twenty-three-year-old however, is currently ranked 25th and seeded twenty-two. She dispatched three seeded players including world #1 Iga Swiatek to reach the penultimate round. During this fortnight, she hit the most aces followed by another semifinalist, Aryna Sabalenka.
Azarenka thirty-three years old and a former world #1, is a two-two grand slam champion having triumphed down under in 2012 and 2013. Now a mother to a six-year-old son, she continues to perform at an elite level and is currently ranked and seeded twenty-four. The three-time US Open finalist took out two seeded players including world #3 Jessica Pegula to reach the semifinals. They played once before, last spring in Indian Wells won by Rybakina in straights.
The reigning Wimbledon champion opened with a double fault but struck three consecutive aces for 1-0 while Azarenka faced deuce but with an ace out wide, held to level.
Raybakina with easy power on the serve and off the ground, held to love for 2-1 with two winners while Azarenka held to 15 to level with a fantastic inside-in backhand and huge serve up the tee.
Rybakina hit her fourth ace but faced break point and dumped serve after Azarenka nailed a forehand volley. The 24th seed gave back the break following two unforced errors and a well-struck return from her opponent.
Rybakina made 4/4 first serves including an ace up the tee and held at love for 4-3. Azarenka serving with new balls, struck two forehand winners but Rybakina hit three winners to earn a third break point and converted when Azarenka netted a forehand.
Rybakina served for the set at 5-3 but dropped serve after missing 8/10 first serves and with a mishit backhand, conceded the game. Azarenka opened the 10th with her first double fault yet held for 5-5 with a brilliant backhand down the line and a backhand error from her opponent.   
Rybakina's serve had left the building. She missed 6/8 fist serves and faced triple break point but held for 6-5 with an ace out wide while Azarenka opened with an incredible inside-out forehand and held at love to force the breaker.
Rybakina won the first point with a massive serve down the middle and reached 5-2 after Azarenka donated a double fault. The two-time Aussie Open champ clawed back to 4-6 but lost the breaker 4-7 when she missed wide with an inside-out forehand.
Azarenka served first in the second and though she faced deuce and break point, held with two aces, the last on game point while Rybakina made 6/6 fist serves including three additional aces to level.
Azarenka missed 3/4 first serves, faced triple break point and dumped serve following potent returns from Rybakina. The world #25 opened the fourth with a crosscourt forehand winner and closed with her 10th ace to consolidate the break for 3-1. As her confidence grew, so did Azarenka's frustration.
Azarenka gifted four unforced errors and faced double break point yet managed to hold with two winners and a well-placed serve on game point. Rybakina playing with poise and conviction, opened the sixth with a remarkable forehand down the line and held at love with a colossal serve out wide.
Azarenka had lost her way and with two consecutive double faults and an overcooked forehand, dropped serve for the second time this set. Rybakina served for the match up 5-2 but overwhelmed by the magnitude of the moment, donated her third double fault and with two consecutive forehand errors faced double break point and dumped serve following a blistering backhand return from Azarenka.
The former world #1 failed to consolidate the break and with another double fault and netted backhand, conceded the set and match. After 1 hour and 40 minutes, Elena Rybakina reached her second grand slam final in six months. In two days, the 2022 Wimbledon champion will contest her first grand slam final in Melbourne.
She played at an exceedingly high level and down the stretch, managed to manage her nerves and serve. She finished with 6 aces, 3 double faults and won 76% of first and 41% of second serve points. She converted 5/11 break points and struck 30 winners. She will need to do better on second serve points won if she hopes to hopes to raise the trophy on Saturday.
Standing in the way of her second grand slam title is Aryna Sabalenka renowned for her formidable groundstrokes and second serve returns. The world #5 is seeking her first grand slam title and leads the head-to-head 3-0 with each match going the distance. They last played in 2021 in the round of 16 at Wimbledon. This will be their first meeting down under where the stakes could not be higher.   
(function(d, s, id) {
var js, fjs = d.getElementsByTagName(s)[0];
if (d.getElementById(id)) return;
js = d.createElement(s); js.id = id;
js.src = "//connect.facebook.net/en_US/all.js#xfbml=1";
fjs.parentNode.insertBefore(js, fjs);
}(document, 'script', 'facebook-jssdk'));


Source link